We're committed to providing you with safe and reliable propane service. From installation to delivery, small cylinders to 1000-gallon tanks, we're here for you. As a 4th generation, family-owned company, we know the comfort and security of your home is important to you, because it's important to us.
To find out more about how propane can be utilized in your home, check out: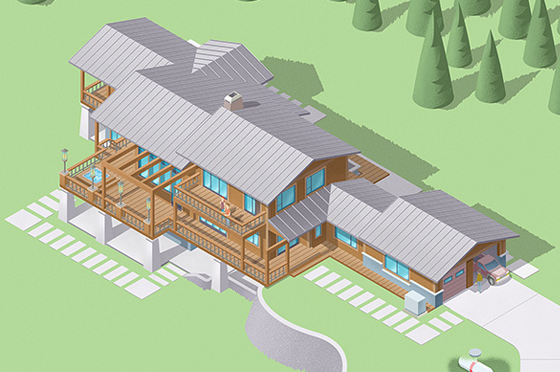 Virtual homes
Home Heating
Furnace or boiler, high-efficiency propane heating systems are a great choice for homes of any size. The versatility of boilers also offers water heating, in-floor heating, and snow melt solutions. With comfortable, consistent heat along with energy, cost, and carbon savings – how can you go wrong?
Furnace Fact Sheet
Boiler Fact Sheet
Cooking
Looking for an eye-catching appliance that costs less to run? Propane ovens, ranges, and cooktops offer that and more! Precise temperature control, more even heat distribution, and fewer emissions make propane a popular choice among homeowners.
Ranges & Ovens Fact Sheet
Fireplaces
Comfort and ambiance, without the hassle! Propane fireplaces deliver over 5 times the heating capacity of electric fireplaces and eliminate the mess associated with wood-burning units. Direct venting means easy install, making propane the ideal solution for retrofit or replacement projects.
Fireplace Fact Sheet
Clothes Drying
Propane dryers are more efficient than electric dryers, giving you shorter cycle times and reduced energy costs. They also offer conveniences such as steam cycles and LCD control screens.
Clothes Dryer Fact Sheet
Outdoor Living
From grills to pools to fire pits, extend the use of your outdoor space with propane! Cook outside to reduce indoor heat gain during summer months, warm pool water more quickly and enjoy swimming season a bit longer, prolong outdoor living by creating a cozy seating area, or illuminate your favorite outdoor features with propane-fueled lighting.
Outdoor Amenities Fact Sheet
Space Heating
Need a dependable, safe, and efficient way to heat your garage or shop? Propane space heaters provide consistent heating with minimal space requirements and little to no maintenance. They also burn cleaner and most have oxygen depletion sensors which prevent carbon monoxide build-up.
Space Heating Fact Sheet
Generators
Propane-powered generators come in a variety of sizes and offer a wide range of features. Unlike gas or diesel, propane doesn't degrade over time, making it a more secure option.
Testimonials
"Many thanks to Cole's Propane for the painless switch from my previous propane provider! I appreciate the friendly and prompt service I have received from my initial call for information to the actual switch and hook up of my new tank to the prompt delivery of propane… I look forward to doing business with Cole's Propane."
"As a customer I would like to compliment you and your group of people on the promptness and the quality of service that was extended to us during the propane tank and line installation. It is unusual today to see the kind of thoroughness and neatness that was shown at our house, and I would like you to know that I certainly appreciate those efforts."
"I just wanted to let you know that I was very pleased with the job Mike and his helper did to install my 1000 gallon propane tank. It is just where I wanted it and it looks great. Looking forward to a long time relationship with Cole Oil!"